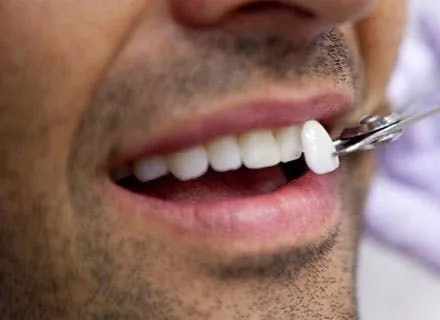 Do you find that you don't smile as much because you're not born with perfect teeth? Not everybody has perfect teeth, but Dr. Alpert at iSmile Dental Roswell has used dental veneers to improve the lives of so many patients, and now it's your turn!
Why Have Porcelain Veneers?
Do you have teeth that are worn down, discolored, chipped, misaligned, or just prove frustrating in any way? If so, dental veneers are a very simple, not to mention affordable, method of improving your smile. Once they are put into place, these veneers are comfortable, stable, and because they can be color matched to the surrounding teeth, give you a natural appearance. The porcelain veneers crafted by Dr. Alpert have drastically altered the lives of numerous patients.
What Are The Advantages Of Veneers?
Porcelain was once a very expensive material. But over the ensuing years, they've become far more affordable for patients seeking an improvement of their teeth health and aesthetic quality. Our veneers are crafted to precision designed for you, and you alone, not just by shaping them to mirror impressions of the original teeth, but they are color matched to ensure they look exactly the same as your natural set. Dr. Alpert takes extra care to align and secure the veneers, and if follow-up adjustments are required, they are done with the same care and attention. Dental veneers don't require any extra maintenance, and by following your usual brushing regimen, as well as flossing and having them professionally cleaned, this will keep them looking graceful.
Preparation And Procedure Of Veneers
Dr. Alpert begins by examining for signs of gum disease or other dominant issues. Before the veneers are implanted, all of these problems will be corrected. When your teeth are issue-free, our staff will craft your treatment plan, including taking x-rays, making the impressions of the teeth, as well as giving you detailed advantages and disadvantages of veneers, ensuring you have a balanced opinion.
The procedure itself involves a thin layer of enamel being removed from the tooth. This creates some space for the veneer. there is no need to be concerned, as it is painless, and if necessary, only a small amount of local anesthetic is needed. Temporary veneers can be used while your custom ones are on their way. Upon the enamel being removed and the tooth cleaned and polished, the etching occurs. This creates a rough surface that will hold the bonding agent in place and the bonding cement is placed onto the veneer and fixed to the tooth.
After this, Dr. Alpert uses a special light-emitting device to activate the chemicals in the cement. this causes the material to harden, securing the veneer. Any necessary adjustments are made to make sure it's in place. And after a follow-up visit to check the bond has been successful and the veneer is aligned, all that's left is for you to show off that smile!
The Right Solution
Regardless of the issue, porcelain veneers don't just make your teeth healthier, they make them more beautiful as well. If you want to improve your oral health and your confidence, schedule your appointment at iSmile Dental Roswell today.