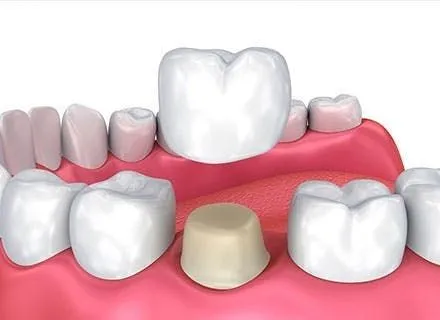 A dental crown is designed to fit over the entire tooth going back to the gum line, also known as a "cap". It is attached to the underlying tooth using a special type of cement which makes sure that they fit correctly. At iSmile Dental Roswell, different types of crowns are offered to our patients so they can choose the one they like.
The Uses For Dental Crowns
Dr. Alpert may advise you get a dental crown for one of many reasons:
To restore a broken, chipped or worn down tooth
To protect a tooth that has suffered various states of dental decay
Prevent a tooth from cracking
Hold a tooth together that has cracked in the past
Hold a dental bridge in the right position
Cover a tooth that has been discolored or is misshapen
Help a tooth that has undergone a filling
Covering up teeth that have had implants or bridges
The Different Types Of Crowns Available
Crowns comprise of different compositions. the materials used will have an effect on how long the crown can last for, as well as how it feels in the mouth and its general appearance.
There are several different compositions for crowns and the five commonly used types of crown are:
Stainless Steel Crowns- These are used as temporary crowns and are cost-effective, not to mention long-lasting. They are also used predominantly on children due to the minimum amount of dental visits to fit it.
Metal Crowns- These are alloys containing a large amount of gold, platinum, or base metal alloys. While they are the longest lasting type of crown, they are usually used to cover molars in the back of the mouth due to its metallic appearance.
Porcelain-To-Metal Crowns- Color-matched to be the same color as the other teeth, this makes them look more natural in their surroundings. Despite the aesthetic benefits, they can be prone to chips and breaks. In addition to this, the metal that underlies the crown can be visible along the gum line. But this is only if the gums start to recede over time.
Resin And Ceramic Crowns- Like the Porcelain-to-metal owners, they are color-matched. Resin crowns are the least expensive, but they are more fragile. For those allergic to metal, ceramic crowns are very useful.
Placing The Crown
To prepare and place a dental crown takes two visits:
On the first visit, Dr. Alpert will remove a tiny amount of enamel from the underlying tooth to help the crown fit comfortably in the mouth. After this, an impression is taken of the tooth using paste or putty and a scan, if necessary. These are then sent to an exterior lab to make the crown. in the meantime, a temporary crown is placed in the tooth.
On the second visit, the crown is checked so it's the right fit and color and cement is used to ensure it's put into place properly.
Get In Contact With Dr. Alpert Today
You can rely on the staff of iSmile Dental Roswell if you need a dental crown or a dental crown replacement. And as Dr. Alpert offers free dental crown consultations, your smile will soon be restored. Get in contact with us today and book an appointment!