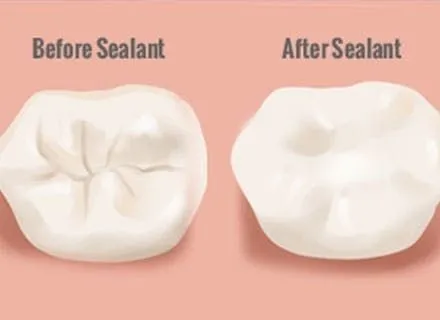 What Are Dental Sealants?
At some point in their life, children may very likely need dental sealants. At iSmile Dental Roswell, our younger patients can protect their teeth from decay by using the dental sealants we provide. Made of plastic, these coatings are either white or a natural color which matches the tooth and protects the teeth from cavities. The ceilings are usually placed on the back teeth (not the front) this helps to protect the chewing surface.
On the molars, there are grooves which allow for more bacteria to stay in place, but this means decay can form quickly. Brushing can help with this, but because it's hard to reach into the grooves, it doesn't always result in an adequate clean. The sealants protect bacteria from forming as they build a barrier for each tooth, and creates a smoother surface making it easier to brush the teeth.
At What Age Are Sealants Placed?
When the permanent molars begin to appear, this is the time to start thinking about sealants. Not every child will need them. It is up to Dr. Alpert to make this decision, but for most children, this is the best option so the permanent teeth are protected. One exception would be the wisdom teeth; these are usually removed once they begin to come through. Adults can have sealants placed on their teeth, but unless there is a risk for cavities to form or risk for damage, it's not necessary.
The Procedure For Placement
Before the sealant is placed, the tooth is cleaned thoroughly. The tooth is rinsed and dried with air to make it receptive to the material. A solution is placed on the tooth for a few seconds before rinsing the tooth once again. This acidic solution will create a rough surface so Dr. Alpert can apply the sealant with ease. When the tooth is dry, the sealant is applied to the tooth and left in place to harden, but a special light can be used on occasion to improve the hardening process. Most sealants will last for many years, but it's essential to brush and floss on a regular basis; the sealant can become damaged if something happens to other parts of the tooth.
The Benefits
It's not just the children who consume sugar who can benefit from sealants, even the children who look after their teeth can as well. They will save their parents money in the long run as they won't have to pay to get cavities filled. It can take a few hours to do a filling or other cavity-oriented procedures, which is another benefit. Decay that develops could lead to other teeth issues, like an infection. The tooth might need to be removed or another dental option might be required, like a crown or a bridge later in life if there isn't adequate protection applied early.
At iSmile Dental Roswell, we can provide our younger patients with the right dental sealants, ensuring their teeth are protected now and in the future.