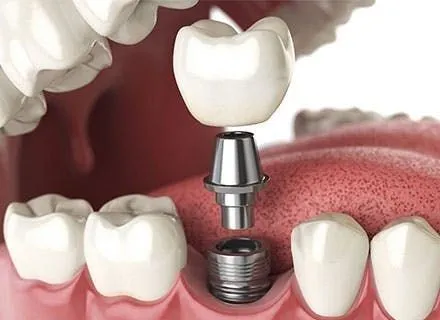 Dental implants are a revolutionary way to restore your teeth back to their natural beauty and at iSmile in Roswell, you can get the perfect healthy smile that you've always wanted at an affordable price. Not only are dental implants an inexpensive way to improve your smile, but they can look and feel just like your natural teeth. If you're looking for a professional dental implant service in Roswell, then iSmile can offer you world-class service. Simply contact our office to schedule a consultation with Dr Alpert, an expert in dental implant procedures, to see what we can do for you.
Can I Get Dental Implants?
Dental implants are ideal for healthy adult candidates that have recently had teeth removed or lost due to any circumstances. Tooth loss can be a common issue among adults for a variety of different reasons and seeking dental implants is one of the best ways to ensure that you can keep your smile even after losing teeth. Once you've lost or extracted a tooth, it's ideal to speak with us as soon as possible to ensure that there are no other complications that could affect your dental implants. If you lose teeth and leave it for a long time, then it opens you up to complications such as periodontal disease, oral infections and potentially even facial deformities.
How Do We Keep Our Prices so Low?
Unlike other dental practices in Roswell, we handle every aspect of the dental implant. This means we buy all of our materials and we source them from the United States instead of expensive imports from European countries. We also don't refer you to other dental practices in Roswell because we handle the entire process ourselves, meaning we pass the savings on to you and can offer lower prices than our competitors.
Your One-Stop Shop for Dental Implants in Roswell
Unlike many other dental practices that claim to have experts on dental implants, we never send our patients to other practices and we handle the entire implant service ourselves. This is one of the leading reasons why the cost of dental implants at other Roswell practices are so high; because multiple practices are involved in the process. So if you're looking for an affordable way to restore your smile, consider iSmile, the dental practice that handles the entire implant procedure from start to finish with no extra fees.
Contact Us Today
So if you're in the Roswell or surrounding area, don't hesitate to contact us for more information on the dental implant services that we offer. You won't find more affordable dental implants anywhere in Roswell thanks to our holistic approach to dental care. You'll no longer need to worry about dentures falling out and you can restore your smile to its previous beautiful state with just a single procedure. Your new implants will look and feel like real teeth and you can continue to live a healthy lifestyle without the associated risks of doing nothing about your tooth loss.